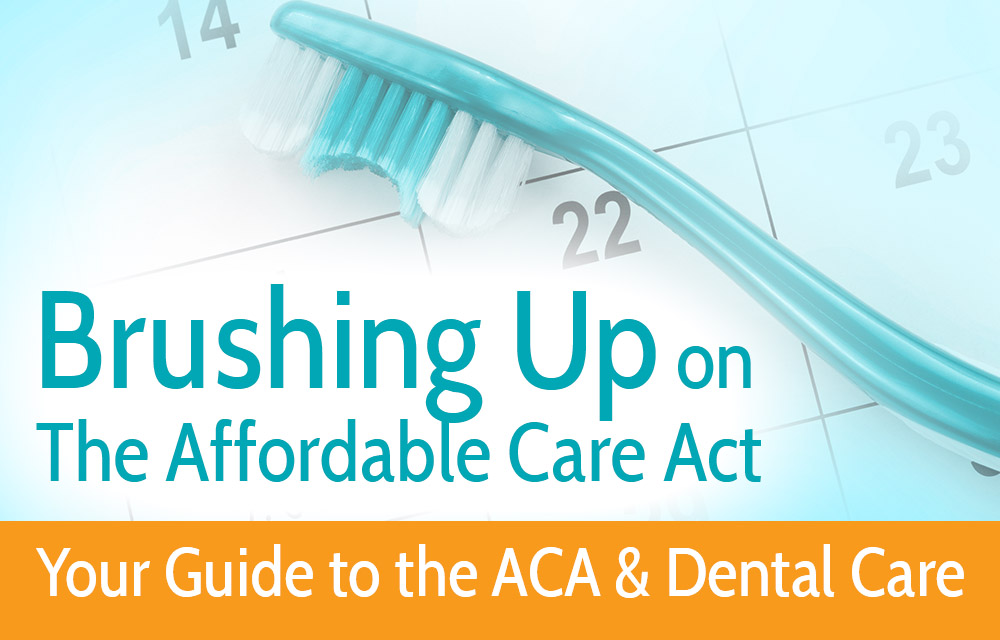 Affordable Care Act Dental Insurance 2023
If you're confused about dental insurance as it pertains to the Affordable Health Care Act—also known as the ACA, Obamacare, heathcare.gov, or the insurance Marketplace - you've come to the right place. DentalPlans.com is your one-stop resource for all things dental, from our savings plans that help you save money on dental care and other needs to providing the information you need to make the best choices for your and your family's dental health.
ACA Open Enrollment For 2023 Coverage
The tenth annual open enrollment for ACA-compliant individual/family health coverage begins November 1, 2022. During this period, you can enroll or change your ACA insurance coverage for 2023. There are some exceptions. Open Enrollment began on October 15 in Idaho and starts on November 16 in New York. In California, renewals started on Oct. 1 for existing policyholders, while those joining a new-to-them ACA plan can do so starting November 1.
Your ACA 2023 coverage begins:
January 1, 2023, if you enroll or change plans by December 15, 2022
February 1, 2023, if you enroll in or change plans December 16, 2022, through January 15, 2023.
Open Enrollment for the federally-run marketplace ends on January 15, 2023.
After this date, you can enroll in or change plans only if you qualify for a Special Enrollment Period.
States that run their own exchanges may have extended ACA deadlines.
These are set each year. States with extended open enrollment include:
Colorado, Connecticut, Kentucky, Maine, Minnesota, Nevada, New Mexico, Pennsylvania, Vermont, and Washington on January 15.
Massachusetts on January 23.
California, District of Columbia, New Jersey, New York, and Rhode Island on January 31.
Two states – Maryland and Idaho, close enrollment on December 15 but typically issue last-minute extensions. That said, don't wait and hope – enroll before the deadline.
Check your state marketplace for further details.
ACA Coverage: What's new for 2023
Affordable Care Act policies will cost more in 2023
The average monthly premium for the benchmark silver plan in 2023 will rise by 4% for plans purchased in the federal exchange. Enhanced federal subsidies should cover the increased cost, so many consumers will not have to pay more for coverage.
Plan providers cannot discriminate
Based on age, expected length of life, present, or predicted disability, degree of medical dependency, quality of life, or other health conditions.
Plan providers can no longer refuse to enroll consumers
If there is outstanding premium debt from the previous year, a provider can not opt to refuse enrollment.
Plans must have a "large enough" network of health care providers
This includes providers of specialty services, including mental health specialists, residential facilities and urgent care. These will be determined by time-and-distance data, and appointment wait times, as well as county population. The final standard would specify the number of providers in a specific area.
Plan providers must offer a standardized plan option for each metal tier on the ACA marketplace
That means insurance companies need to offer one plan with maximum out-of-pocket limitations, deductibles, and cost-sharing figures so consumers can more easily compare premiums, provider networks, prescription drug coverage, and quality ratings.
The "Family Glitch" has been fixed
Previously, people who had access to employer-based coverage could only purchase insurance through the ACA if they couldn't afford to participate in their employer's plan (typically due to high cost-sharing). But decisions were based on the employee's perceived ability to join as a single person, not the cost of insuring a family. The IRS has finalized a new regulation that replaces the one that created the "family glitch." Some families will now newly eligible for marketplace premium subsidies as of 2023.
The ACA and Dental Insurance
Very little has changed over the past decade regarding the notable lack of dental insurance coverage options for adults under Obamacare. You may be able to find sensibly-priced dental coverage for your children if you are also purchasing health insurance from the federal or state markets (you cannot purchase dental insurance alone through the ACA, it needs to be added to a healthcare plan).
ACA dental options are fewer and far more expensive for adults – with unsubsidized rates for dental insurance costing hundreds per month. While cost of coverage can be reduced with subsidies, it makes sense to explore other options for reducing dental costs – traditional dental insurance or a dental savings plan.
Traditional dental insurance plans help you fit the cost of expensive dental treatments into your budget. Most dental insurance plans cover 100% of the cost of preventive care such as cleanings, checkups and x-rays, 80% of basic treatments such as fillings, and 50% of more complex procedures such as root canals and crowns. Coverage begins after you have met your deductible – which is typically $50-$150 annually. Most insurance plans have a 6-month to 1-year waiting period for basic and major procedures.
When you purchase a dental insurance plan, you'll likely choose between dental HMO or PPO plans.
Dental PPO plans allow you to get care from any dentist or dental specialist – though you'll save more on your care if you stay in-network. And while you'll usually be able to see a dentist whenever you want with a PPO plan, as a new plan member you're likely to have to wait for months before your plan provides coverage for more expensive treatments such as bridges and crowns.
Dental HMO insurance plans require members to stay within network for treatment. All referrals to dental specialists must be provided by the primary dentist. While there is often no waiting period imposed before coverage kicks in, an HMO plan may limit the number of times that you can see a dentist annually.
PPO premiums – the price you pay for your insurance - tend to be higher than those for HMO plans. But no matter which type of plan you choose, there will be a low annual coverage limit. Most dental insurance plans cap coverage at $1,200-$1,500 annually.
Reduce Dental Care Costs with Dental Savings Plans
Dental savings plans are an affordable alternative to traditional dental insurance. Plan members save 10%-60% on dental care costs. And dental savings plans do not have spending caps, exclusions for pre-existing conditions, or waiting periods associated with insurance.
You can start saving on your dental care fast with a dental savings plan - plans activate within 72 hours, and some can be used within just 24 hours of joining.
And if you're struggling to meet out-of-pocket insurance costs, you'll be happy to know that many of the plans offered by DentalPlans.com also include savings on general healthcare needs, including vision and hearing services, prescriptions, chiropractic, and more.
To find out more about the advantages of dental savings plans, please call us at 1-833-735-0399 or use the DentalPlans.com search tool to find and join your plan.