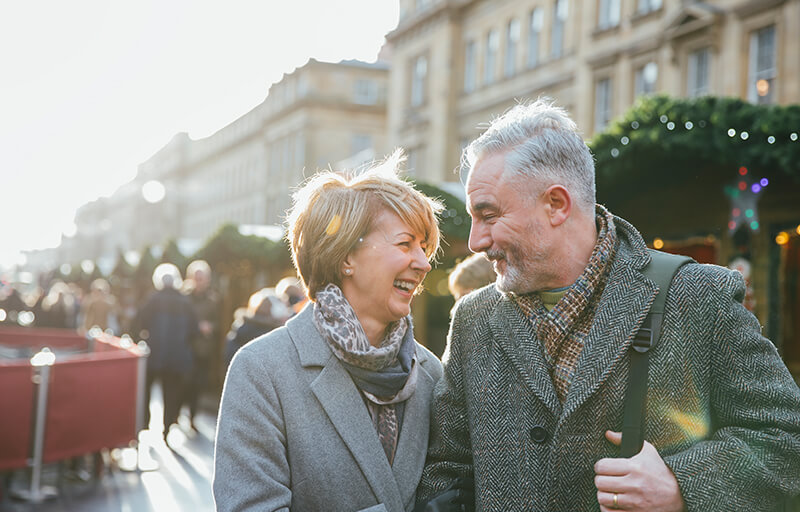 The Grandparents Guide To Stress-Free Holidays
Of course, you look forward to celebrating the holidays with your grandchildren. But the seasonal celebrations often lead to overeating, overspending, over-committing, overextending – for too many of us the holidays have become and exhausting stress fest instead of the most wonderful time of the year.
According to the American Psychological Association, by Thanksgiving 69% of people are already stressed due to a "lack of money", 68% are going a little crazy due to a "lack of time", and 51% are really tense because of the "pressure to give or get gifts."
What You Need To Know About Stress
Stress is a significant health problem. Our bodies respond to stress much as they would respond to an imminent physical threat. Your brain prompts your adrenal glands to release a surge of hormones, including adrenaline and cortisol that are useful in helping you to fight back against the threat or run away from it very quickly.
Our physical responses to stress worked great for our Neolithic ancestors, but are less than useful when the problem is financial demands or a packed mall. When stress hormones are released they increase your heart rate and boost your blood pressure. They crank up the sugars (glucose) in your bloodstream so that your brain can power-up. They also alter the physical responses that make it easier to survive an emergency: your digestive system is suppressed, your mood and motivation becomes focused fully on survival, and your immune system response is altered.
An overabundance of adrenaline in your system can cause you to grind your teeth, chipping and cracking them. It can also cause high blood pressure, angina, heart disease and heart attacks, stress headaches, upset stomach or heartburn, sore throats (due to dry mouth), and sleep disorders. Combined with Cortisol, your immune system can become less able to fight off common ailments such as sinus infections, colds and flu.
Stress is a problem for everyone, but typically when you're past 40 your system is less able to shrug off the effects of stress. Of course, a healthy older person is better equipped to deal with the physical and mental effects than a 20-year-old who isn't taking care of him or herself. But at our age, who needs more stress anyway?
Happily, you can enjoy a riotous holiday with your grandparents and save your sanity this holiday season. Below are some tips aimed at reducing the pressure on your bank account and mental health:
Managing Holiday Stress
Here are some tips that will help you have a calmer, happier holiday:
Find Meaning: Think about what resonates for you at this time of year. You may want to celebrate the return of longer days at Winter Solstice, do volunteer work for a cherished cause, celebrate every second of the season in a big way or plan to cross the International Date line at the stroke of midnight on December 24 in order to skip Christmas altogether. The point is to figure out what works for you, and do as much of it as possible.
Experiences, Not Things: Taking the time to do things with the people that we love is more likely to make everyone happier than a slew of gifts. Create a new holiday tradition, or reconnect with the experiences that made the holiday special for you in the past: children's books, holiday shows, hot chocolate, baking cookies … whatever evokes that sense of magic.
Lower Your Expectations: "When we think about the holidays, we dwell on the past and what went wrong, or we romanticize it and make it impossible to re-create," Ronald Nathan, PhD, clinical professor at Albany Medical College in New York, told WebMD. Nathan counsels people to carefully examine their thoughts and expectations, and not drive themselves crazy finding "the perfect gift" or planning "the perfect party. Instead, he says, lower your expectations, and overestimate — rather than underestimate — your time.
Take a Deep Breath: If you know that you are prone to getting particularly stressed out around the holidays, research some coping techniques now. The American Institute of Stress suggests "focused" deep breathing as the single "Super Stress Buster" that works for everyone.
Stay Healthy: Get the sleep, healthy food and exercise that you need to feel good. The better you feel physically, the more likely you are to be able to cope with increased stress around the holidays. If you're struggling with depression, reach out and get support if you need it.
And if you're skipping necessary medical care like a visit to the dentist in order to cover holiday bills, get a dental savings plan. You'll enjoy discounts of 10%-60% on senior dental care costs. You simply go to a dentist who is part of your plan's network – that is, a dentist who has agreed to provide discounted dental services to plan members - and pay the reduced rate directly to the dentist.
Find out more about dental discount plans now at DentalPlans.com