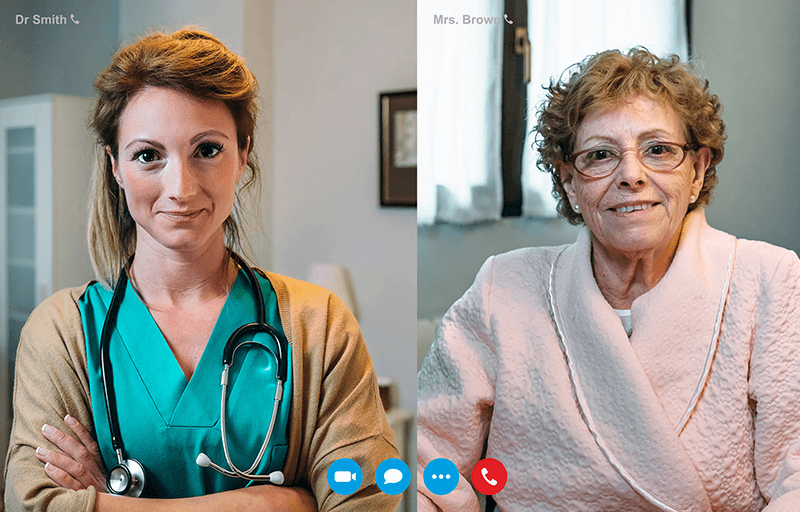 Seniors, Telemedicine and Covid-19
Older people are at a greater risk of experiencing more severe complications if infected with Covid-19. People over 65 have been asked to be vigilant about social distancing and other practices that can help to reduce the chance of being infected with the virus.
The Centers for Disease Control and Prevention have also
advised
older people to plan for their health and well-being at this time. Among the needs stressed is to determine how you can get basic necessities and other services without leaving your home.
Telemedicine is one of the things you may wish to consider now. With telemedicine, you can get medical care for non-emergency issues. Instead of going to your doctor's office, you talk to a doctor using a website, an app on your mobile device, or a phone call. Your own doctor may offer this service now (Medicare is
widening coverage
for telemedicine through the Covid-19 pandemic) or you may wish to join a
telemedicine plan
.
How does telemedicine work?
You can opt for a video consultation, which works the same way as Skype or other video chat programs. If you've never done a video chat, it's super simple – assuming your phone, computer or tablet can do video (most can) you simply click to start the chat, and start talking to the doctor. You can see the doctor, and he or she can see you so it's a good option if you want to show the doctor a rash, swelling or whatever you happen to be calling about.
If you'd prefer not to be face-to-face with the doctor, no problem. You can call and chat – and you can snap a couple of photos of any visible symptoms you might want to show the doctor and upload them before you call.
Whatever option you choose, the software that you use to access telemedicine services is designed to make the whole process super easy. Once you get it set up – you'll need to fill in a health record first, the same as you do when you see any new doctor – it really is just a matter of clicking a couple of buttons, providing some very basic info about your symptoms, and requesting an appointment. Within ten minutes or less you'll be talking to the doctor – the same way as you'd talk to your own doctor if you were in his or her office. The difference is that your telemedicine consultation can take as long as you want, so you won't feel rushed. And you'll get a written summary at the end of the consultation, detailing your diagnosis and treatment plan, so don't worry about taking notes or having to remember everything!
And yes, the doctors you consult with are "real" doctors. In fact, your own doctor may offer telemedicine services. If not, an established service like Teladoc will connect you with a qualified doctor (most Teladoc doctors have 20+ years of experience) who is board-certified and licensed to practice locally. If you choose, after your consultation the Teladoc doctor can pass along info about your condition and treatment to your regular doctor.
Is telemedicine as good as a regular doctor's visit?
Telemedicine has proved effective in treating everyday ailments like influenza, colds, stomach upsets, sinus and ear infections, allergies, rashes and similar illnesses.
If you need hands-on help – such as x-rays or diagnostic testing, you should go to a doctor's office or urgent care clinic.
If you are experiencing a health emergency, including but not limited to shortness of breath, severe pain, persistent chest pain (especially if it radiates to your arm or jaw or is accompanied by sweating, vomiting or shortness of breath) bleeding you can't control, a temperature over 102, sudden difficulties in speaking/understanding speech and confusion, or fainting – head to the emergency room ASAP.
What can telemedicine do that my doctor can't?
Telemedicine is far more convenient than an in-person visit with a doctor. When you're feeling lousy the last thing you want to do is get cleaned up, dressed, and travel to a doctor's office or clinic, right? It's so much more comfortable to just stay home and have a chat with a doctor. And if needed, your telemedicine provider can even call in a prescription to your local drugstore.
And since it's so easy to see a doctor with telemedicine, you may find that you're taking better care of yourself too. Rather than putting off a visit to check in about a symptom or annoying health problem, like a rash caused by an allergic reaction or sinus congestion that just won't go away – when professional help is so easy to access, you'll likely deal with simple concerns before they become bigger worries.
Besides convenience, telemedicine helps keep you away from the germ-laden environment of a doctor's office or clinic. One of the benefits of getting older is that you've developed immunities to the illnesses you've encountered in the past. But, typically your immune system also isn't functioning as effectively as it used to either. And, with Covid-19, no one has immunity (as far as we know now) until they have recovered from the virus. One thing is for sure, you can definitely avoid contact with germs at the doctor's office with telemedicine.
Can telemedicine save me money?
Typically, yes. As noted above, Medicare has widened its coverage for telemedicine during the crisis. If things return to normal afterwards, Medicare typically offers
limited coverage
for telemedicine services.
Some Medicare Advantage plans cover telemedicine services. Check your plan details to see if telemedicine is included. If you have employer-provided insurance, or private insurance, telemedicine may be included in your coverage. The usual cost for telemedicine services with insurance is $50-$75.
You can also opt to purchase a telemedicine discount plan. With the telemedicine plans offered by DentalPlans.com – for a low annual fee you get unlimited, free (yes, free!) telemedicine consultations with Teladoc, plus other benefits including expert medical bill negotiators to drive down the cost of existing medical and dental bills, healthcare advocacy services to help you unsnarl medical system and insurance complexities, and much more.
The future of telemedicine
While no one knows when social distancing will end, when the pandemic will burn itself out or when a vaccine will become available, one thing is for sure: this will pass. But the use of telemedicine is likely to continue growing even after the pandemic fades, as more people and healthcare professionals experience the advantages and conveniences of virtual healthcare.