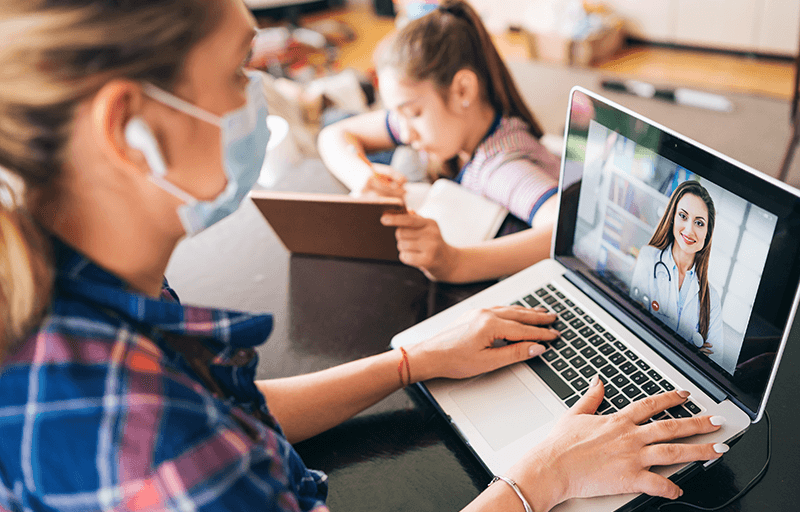 Telemedicine and COVID-19
Virtual visits can be used to deliver non-emergency medical care, as well as support those who are infected with COVID-19 and are experiencing mild symptoms. Doctors can also screen people through virtual consultations to establish whether a person is in a low-, medium-, or high-risk group and determine whether they need hands-on care or can better recover at home.
What happens during a telemedicine consultation?
The software that you use – on a website, your phone or other device - to access telemedicine services is designed to make the whole process super easy. If it's your first time, you'll need to fill in a health record first, the same as you do when you see any new doctor - it really is just a matter of clicking a couple of buttons, providing some very basic info about your symptoms, and requesting an appointment.
You can opt for a video consultation, which works the same way as Skype, FaceTime or other video chat programs. If you've never done a video chat, it's super simple – assuming your phone, computer or tablet can do video (most can) you simply click to start the chat and start talking to the doctor. You can see the doctor, and he or she can see you so it's a good option if you want to show the doctor a rash, swelling or whatever you happen to be calling about.
If you'd prefer not to be face-to-face with the doctor, no problem. You can ask for a telephone consultation – and if you like, you can snap a couple of photos of any visible symptoms you might want to show the doctor and upload them before you call.
During the consultation, you talk to the doctor the same way as you'd talk to your own doctor if you were in his or her office. Tell them about your symptoms, answer their questions, ask about anything you don't understand. The doctor will then discuss treatment options with you, and if needed can call in a prescription for some types of medications, to the pharmacy of your choice. And you'll get a written summary at the end of the consultation, detailing your diagnosis and treatment plan, so don't worry about taking notes or having to remember everything!
How can I access telemedicine?
No matter how you choose to access telemedicine services, check to see if the provider confirms their compliance with HIPAA and HITECH, to help ensure that your privacy is protected during a virtual consultation. All healthcare providers – virtual or not - are expected to comply with the guidance provided by HIPAA and HITECH. You can typically find this information in the provider's FAQs (look for privacy) or displayed on the provider's website.
The Future of Telemedicine
Sources: