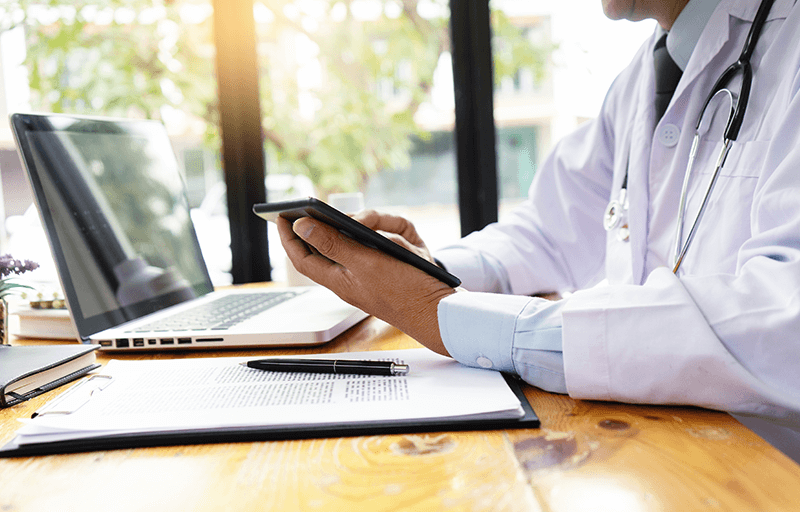 Telemedicine FAQ
What exactly is telemedicine? How does it work?
Doctors and other health professionals – nurses, pediatricians, therapists, nutritionists, dermatologists and many more - consult with patients via video chat using a secure app or website. Telemedicine calls can also be conducted by text chat or phone, if the patient prefers or doesn't have access to video-enabled devices.
Is telemedicine new?
Actually, it's over a hundred years old. The first use of telemedicine was in 1903, when Willem Einthoven, a Dutch physiologist, recorded the heartbeats of hospital patients using an electrocardiogram device, which he had invented, and
transmitted the data
via telephone.
Consultations conducted by radio, for patients who were travelling by sea or located in remote areas, began in the 1920s. The practice was even promoted on the cover of the April 1924 issue of Radio News Magazine, with what was then a wildly futuristic illustration of a doctor consulting with a patient via video.
And the National Aeronautics and Space Administration (NASA) has been deeply involved in telemedicine since the agency's founding in 1958. Telemedicine remains an important priority for NASA, who continues to explore options for keeping astronauts healthy on the International Space Station. The agency is also vitally interested in finding ways to bring healthcare to astronauts, and their discoveries in space will continue to improve our telemedicine capabilities here at home.
What are the advantages of telemedicine?
Reduced costs, time-saving, and easy access to medical professionals and medical specialists for everyday issues such as sinus/ear infections, flu and colds, skin rashes, allergies, colds and influenza, digestive upsets and other non-emergency issues.
By enabling people to quickly access on-demand treatment for uncomplicated health issues - without having to take off work and pay for a visit to the doctor, urgent care clinic or emergency room – telemedicine makes quality care far more accessible and affordable. Telemedicine also makes it easier for people living in areas where there is a shortage of local doctors to access care.
Clinical studies
have shown that telemedicine can substantially reduce mortality rates, reduce the need for admissions to hospital, lower the number of days spent in the hospital and reduce emergency room usage.
•
45% reduction in mortality rates
•
20% reduction in emergency admissions
•
15% reduction in emergency room visits
•
14% reduction in elective admissions
•
14% reduction in hospital stay length
What are the disadvantages of telemedicine?
Many of the dissatisfactions reported with telemedicine are based on people's personal preferences, they would rather see their primary care physician, or may be uncomfortable discussing health issues with an unknown doctor over the phone or via the internet. Other issues that have been mentioned as detrimental in studies are a breakdown of the relationship between health professional and patient, and complexities in Medicare and insurance reimbursements.
It is important to note that during the COVID-19 epidemic, many of the telemedicine restrictions states and insurance companies had in place have now been
suspended
, so that people can quickly access the healthcare that they need.
Does Telemedicine save people money on medical costs?
Telemedicine is significantly less expensive than an emergency room visit (average cost, just for the visit, is $1,354) or an urgent care center visit (average cost, again just for the visit, $150), for a private physician visit, about $125. Of course, these fees vary depending on your insurance coverage, and location. A telemedicine consultation is typically $50-$75, or free for members of certain telemedicine plans. Typically, if you have insurance or pay directly, a telemedicine consultation costs $50-$75 out-of-pocket. If you are a member of certain healthcare discount plans you get telemedicine consultations at no additional cost.
For additional information on healthcare costs, see this whitepaper from
Fair Health
.
Can you get prescriptions from a telemedicine doctor?
When applicable, the doctor may prescribe some types of medications. In some cases, a doctor can issue a short-term refill on an existing medication. State laws
apply
here, which is why patients must verify their location prior to a visit (it also allows for people to be treated by medical professionals licensed to practice in their state).
How do you access telemedicine?
Telemedicine services can be accessed through a service provider associated with a healthcare savings plan, a traditional health insurance plan, through your healthcare provider, or through a dedicated telemedicine service provider.
What medical procedures don't work well using telemedicine?
Emergency and life-threatening issues, and anything that requires a physical examination, hands-on treatment or medical diagnostics testing should not be treated by telemedicine. The exception would be if someone was in a situation that absolutely precludes access to an emergency room, urgent care clinic, or healthcare provider – e.g.: during a natural disaster or living/working in an extremely remote area.
What is the difference between telemedicine and telehealth?
The American Telemedicine Association defines "telemedicine" and "telehealth" as synonyms and uses the terms interchangeably. Some companies use "telehealth" to describe a broad range of wellness services and offers, as opposed to "telemedicine" which they define as a service centered solely on delivering healthcare by certified professionals.
Where can I find out more about telemedicine?
You can access DentalPlan's telemedicine resource center here. Other good sources include The Center for Connected Health Policy
(CCHP)
and the American Telehealth Association (
(ATA)
.
To review telemedicine savings plan options visit
dentalplans.com
. Note that these plans are not health insurance, instead members gain access telemedicine consultations and other essential health services at no cost beyond their annual membership fee.